Deadlands Reloaded: The Weird West
Kansas
Kansas has been a territory with more than a quarter century of fighting with no end in sight. Due to the Kansas-Nebraska Act of 1854, people of the territory could vote on which country they would throw support for this has lead to a micro civil war between the Union Jayhawkers and the Confederate "Border Ruffians." Only the fact that official military units are prohibited keeps full scale war from breaking out, but does little to curb guerrilla style conflicts.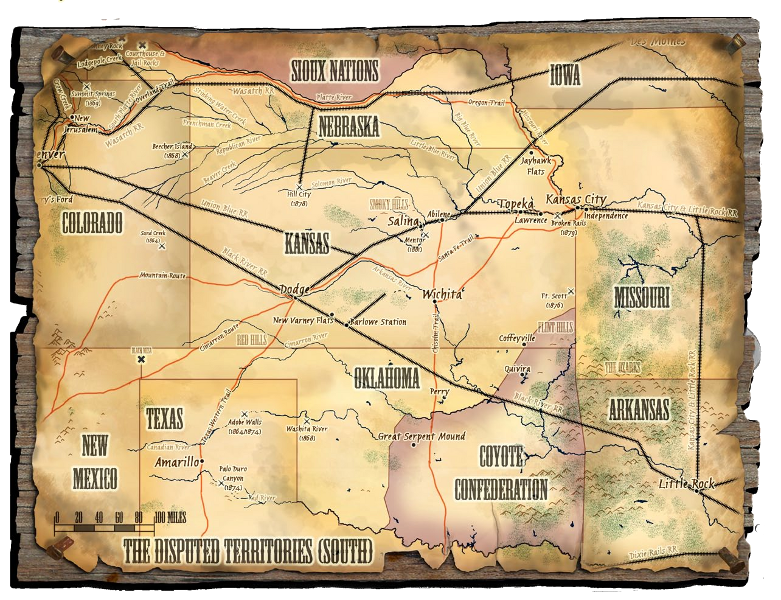 Locales
Chisohm Trail
Cimarron Route
Fort Scott Battlefield of 1876
Hill City Battlefield of 1878
Red Hills
Santa Fe Trail
Smokey Hills
Texas Western Trail
Settlements:
Abilene
Barlowe Station
Coffeyville
Dodge City
Jayhawk Flats
Lawrence
New Varney Flats
Selina
Topeka
Wichita
Bounty Board
This area is a list of all the paying jobs that a posse could reasonable find at a post office, news paper, or message board during their travels through the region. Any links to the listing are for the players to research a little closer to discuss with the other players about the possibility of following up on.
WANTED

! "Kansas" Wiley Stafford for the murder and robbery $300.

WANTED

! Freelancers to guard cattle herds. Good pay. Inquire at McCoy Ranch. Now hiring bodyguards at Lebold Mansion. See Conrad Lebold in Abilene.

DEPUTIES

needed to enforce the Coffeyville Town Council's will. Please provide resume and references to Marshal Barnaby.

WANTED

! Stagecoach Robber, dead or alive. $500 reward. See Marshal Larry Deger to collect.

LOOKING

for a

GOOD

TIME

, cowboy? Visit the Wild Irish Roses on Bridge Street in Dodge City.

NOW

HIRING

able-bodied rail warriors. Inquire at the Union Blue train depot. Weapons provided.

REWARD

! A reward of $200 is offered by the citizens of Jayhawk Flats for any information leading to the capture of known card sharp Jeremiah Bass.

WANTED

! Bloody Bill Quantrill, dead or alive. Reward $600, plus $50 per accomplice.

IRON

DOOR

TREASURE

. Local venture capitalist assembling expedition to recover Belle Starr's lost Iron Door Treasure. Skilled woodsmen and trackers only. See Phil Dunlop, Kirby Hotel, New Varney Flats.

MIRROR

WINDOW

! See the miraculous portal created by brilliant students of the College of the Sisters of Bethany! Look upon the mysterious World of Spirits! Admission 10¢. Topeka, KS

FREAK

SHOW

! See the Head of Evil and the Hand of Fate! Only 2¢ per viewing. Wichita,KS
Adventures:
MARSHAL'S ONLY: These are not for players to read unless they have accomplished the adventure already (and have the Marshal's go ahead) and want to get a look behind the scenes. For published adventures, most of what is here are notes concerning the adventure such as locations, major NPCs, possible trouble spots, and optional things that change the adventure. For original adventures, it is the actual adventure.
A Twisted Mind for a Twisted Body
Little Brother from The Last Sons page 247
Night Train Dime Novel Adventure #3