Deadlands Reloaded: The Weird West
Oregon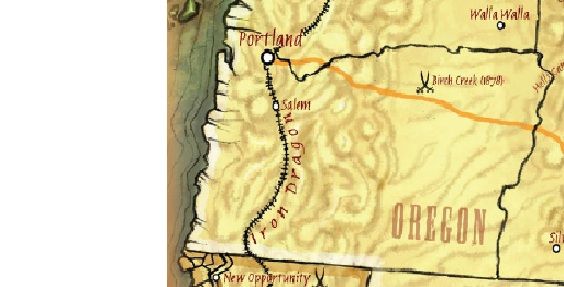 Brief Description
Places of Interest:
Columbia River The river that forms the border between Oregon and Wahsington
Crown Point a scenic viewing promontory near Portland
Fort Rock a volcanic tuff ring
Mount Hood
Settlements:
Portland A frontier town despite being a steady trading port
Salem Also known as the Cherry City it has been capital city of the state Oregon since 1859
Bounty Board
This area is a list of all the paying jobs that a posse could reasonable find at a post office, news paper, or message board during their travels through the region. Any links to the listing are for the players to research a little closer to discuss with the other players about the possibility of following up on.
MISSING

Bill Williamson, Martin Cormack, and Dirk "Bloody" Stubeen. Taken straight of the streets of Portland
Adventures:
MARSHAL'S ONLY: These are not for players to read unless they have accomplished the adventure already (and have the Marshal's go ahead) and want to get a look behind the scenes. For published adventures, most of what is here are notes concerning the adventure such as locations, major NPCs, possible trouble spots, and optional things that change the adventure. For original adventures, it is the actual adventure.
Chief Barrel Belly's Revenge from the Northwest Trail Guide page 77 that starts in Portland
Flashpoint from the Northwest Trail Guide page 82
Shanghaied! from the Northwest Trail Guide page 84