Deadlands Reloaded: The Weird West
Utah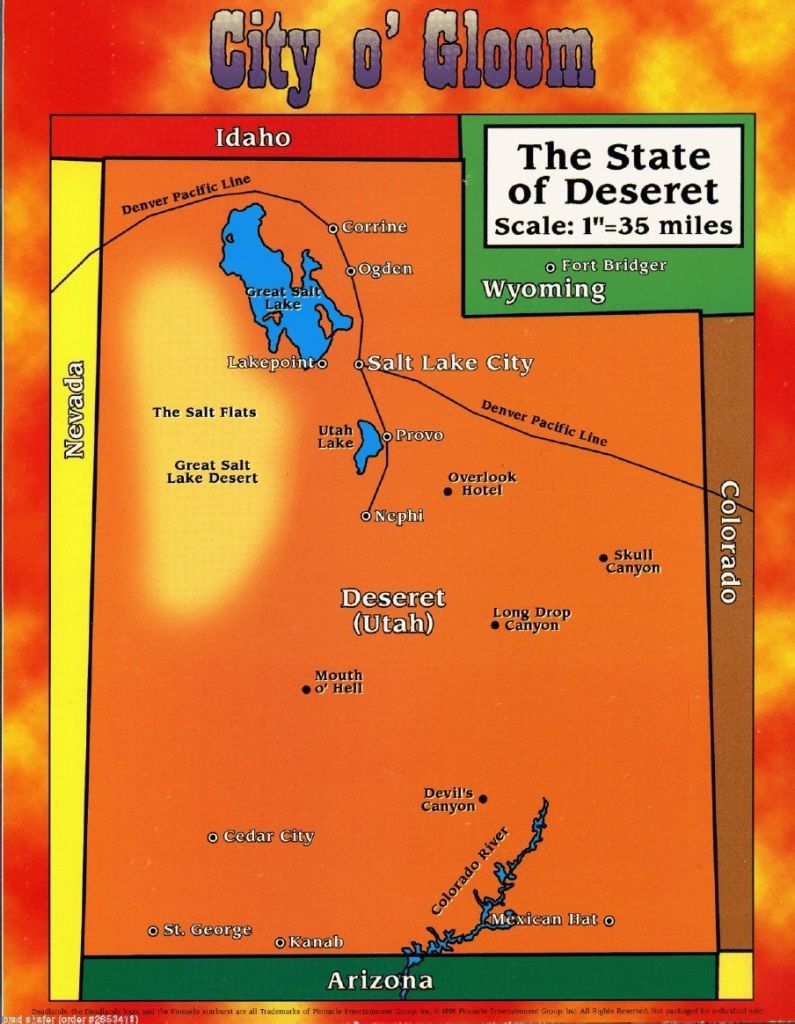 The Utah Territory or rather the nation of Deseret, is the home to the Church of Latter Day Saints led by Brigham Young who serves both as leader of the faith and their fledgling nation.
Points of Interest
Antelope Island One of larger islands in the Great Salt Lake located on the southeast portion of the lake.
Devil's Canyon
The Great Salt Lake One of the few salty lakes of the world
Long Drop Canyon
Mouth o' Hell
The Salt Flats
Skull Canyon
Settlements:
Corrine Where both Gentiles and Mormons go to let their hair down without fear of prying eyes.
Faust A small non-Mormon town in southwest of the Great Salt Lake.
Gardnerville A town with big dreams whil most live in homes dug out an old arroyo.
Kenab A small town of ten Mormon family pioneers founded in 1870.
Lewiston A small mining village on the border of Dessert and Idaho.
Mammoth A gold, silver, and ghost rock mining boom town south of Utah Lake.
Mexican Hat
Nephi
Ogden The last major railroad station until Lost Angels or Shan Fan.
Orderville A Mormon mandated village for the refugees of destitute boom towns.
Overlook Hotel A giant mansion turned hotel run by the oddest and cookyiest family one is ever likely to meet.
Parley's Park City A resort town for Salt Lake City's rich and powerful hidden in the mountains.
Planterstown Called Plannter's Wart by most folk that have to pass through this small town located ?? and about ?? miles from Salt Lake City.
Provo
Salt Lake City A.K.A. the City of Gloom due to the amount of pollution that hangs over this city along the Wasatch Mountains. It is the capital of the Mormon nation of Deseret and is the most technologically advanced city in the world thanks in part from Mad Scientist/Industrialist Doctor Darius Hellstrommme. The city is also the headquarters of Smith and Robards the famous gizmo and wondrous invention company.
Saint George A small town in the southwest corner of the Utah Territory.
Willowcreek a small Mormon town located in the center of the nation of Dessert.
Willow Springs A small farming town near the Nevada border that served the orginal Pony Express.
Bounty Board
This area is a list of all the paying jobs that a posse could reasonable find at a post office, news paper, or message board during their travels through the region. Any links to the listing are for the players to research a little closer to discuss with the other players about the possibility of following up on.
Wanted: Any information on the "Man of Mystery" the famous US Agent Nevada Smith. Pay based on usefulness of information from $10 up to $1000. Posted by Nation of Deseret contact Salt Lake City Hall.
Missing: Cal Yates late seen in Salt Lake City 1971. Reward of $2000 alive, $500 if you locate his remains. Contact Doctor Victor Yates, father, in Salt Lake City or visit Doc Yates for more information.
Come One, Come All! I Bill King will pay $50 any man or woman who lasts 5 minutes with The Pit Champion Easton Purdue.
Amateur Night: Do you think you have what it take to Swing? Why not try out? Winners take a quarter of bets made on them. That's $12-120 for on night's work!
Wanted: Doctor Leonitus P. Gash for Crimes against God and the natural order things, unnecessary surgery, and operating without a medical licenses. $1000 Alive, $100 Dead. Nation of Deseret.
Wanted: Utah Starr, Leader of the Gang known as the Scorpions. Known harden killer of at least 18 men. $400 Dead-or-Alive. Nation of Deseret.
Wanted: Bonita Rose, Leader of the Outcasts Gang. $500 bounty for her alive. Nation of Deseret.
Looking for Adventure! Sign on with the Salt Flats Worming Company. Travel aboard one of our landships as deckhand. Learn a trade while being paid! Pay ranges from $90 to $120 a month. See Salt Flats Worming Company, Ogden, Utah.
Factory Work available. Pay 50 cents a day plus room in worker housing.
Inventors Welcome! Do you think you have the next big New Sience Invention? Do you have several blueprints but lack the funding to get the project off the ground? Visit Smith & Robards Salt Lake Headquarters for possible employment opportunities.
Tired of traveling Snakeoil Trade? What to settle down into a more permanent location doing what you do best, selling? Come work for us over at California Corral as a used steam wagon salesman! Work is entirely based on commission of 5% of sales. You could make up to $500 a month with you salesman talents!
$2000 Reward For the return of two stone gargoyle statues with an extra $500 bounty for the capture of the thieves. by decree of Brigham Young on behalf of the Nation of Deseret.
Adventures:
MARSHAL'S ONLY: These are not for players to read unless they have accomplished the adventure already (and have the Marshal's go ahead) and want to get a look behind the scenes. For published adventures, most of what is here are notes concerning the adventure such as locations, major NPCs, possible trouble spots, and optional things that change the adventure. For original adventures, it is the actual adventure.
The Crucible Starts in Salt Lake City
The Forbidden God A Dime Novel adventure that starts in Salt Lake City
Ghost Riders in the Sky A Deadlands Classic adventure from Marshal Law that starts in Plantersville
The Sand Men A Tombstone Epitaph article adventure that starts in Salt Lake City or Wandering