Deadlands Reloaded: The Weird West
Washington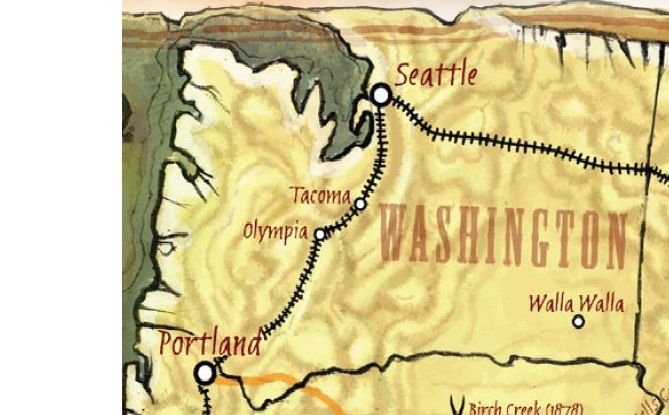 Brief Description
Places of Interest:
Columbia River The river that forms the border between Oregon and Wahsington
McNeil Island The island prison for much the Great Northwest.
Mount Rainer Also known as Mount Tahoma, this single mountain on the west side of the state is breathtaking.
Mount Saint Helens
Mount Si
Puget Sound
San Jaun Islands
The Snoqualmie Trail
Yakima Valley Home to the Yakima Indians who less than a decade ago forced of all of the invading settlers out.
Settlements:
Granite Falls An isolated mountain town known for their preserves.
Little Goose a small river town north of Walla Walla
North Bend A tiny farming town near Seattle.
Mount Vernon A logging town in the northwest portion growing due to smart bushiness minds.
Olympia Capital of Washington it is the center of activity for much of the State
Rosalia A small town near a famous 1858 battle site.
Seattle Also known as the Emerald City this place is still known as a rough and tumble frontier town despite is size.
Spokane Falls An outfitting town for mining and lumber cutting.
Sunnydale a village of trails and small houses without roads between Seattle and Tacoma.
Tacoma Known as a city of contrasts as both commerce and industry thrive in the busy port and rail city.
Walla Walla Originally an Union fort in which the town built a palisade around the entire settlement.
Woodinville a small village springing up around Ira Woodin's log cabin.
Bounty Board
This area is a list of all the paying jobs that a posse could reasonable find at a post office, news paper, or message board during their travels through the region. Any links to the listing are for the players to research a little closer to discuss with the other players about the possibility of following up on.
FREELANCERS

WANTED

: The Mayor of Walla Walla is hiring freelancers to scout/patrol the region around the town. Pay is $12 per day.

NOW

HIRING

: Tacoma lawyer named Caleb Stubbs is hiring freelancers to locate a missing person. Interested parties should seek him out in Tacoma.

LONGSHOREMAN

WANTED

: Loading/Unloading trains and ships on Foss Waterway in Tacoma. Working knowledge of steam machinery a plus. $8/day. NO

CHINESE

!
$500

REWARD

for verifiable proof of the existence of Bigfoot paid by the Tombstone Epitaph.

SCOUTS

AND

PATHFINDERS

SOUGHT

: To find reliable trails through the Yakima Indian Nation.

HIGH

ROLLERS

WELCOME

!: Seattle mayor-for-life "Boss" Boyd invites all gamblers to his monthly gambling tournament held at the Mayor's Mansion in Seattle. Entrance fee is $1000 in gold, NO

EXCEPTIONS

!

NOW

HIRING

: Lumberjacks and mill workers prospective employees should seek out the Yesner Mill on the waterfront Seattle.

BRAVE

FREELANCERS

: A land developers is seeking to hire investigators to assess land values of Queen Anne's Hill in Seattle. Employer seeks a healthy mix of hired guns and men well versed in science or other broad-skill-based individuals.

IRON

DRAGON

RAILROAD

NEEDS

WORKERS

/

GUARDS

: For Washington Territory pay is $5 a day.

FER

WHITE

MEN

,

CHINESE

GIT

DOUBLE

COWBOYS

GONE

MISSING

: Bill Parker & Junebug McFee have month's pay of $100 total from the Double S Ranch waiting for them. Interested Parties can collect this pay if they can prove the demise of the two men.
Adventures:
MARSHAL'S ONLY: These are not for players to read unless they have accomplished the adventure already (and have the Marshal's go ahead) and want to get a look behind the scenes. For published adventures, most of what is here are notes concerning the adventure such as locations, major NPCs, possible trouble spots, and optional things that change the adventure. For original adventures, it is the actual adventure.
Brothers o' the Woods from Trail Guide: The Great Northwest page 38 that starts in Seattle
Canterbury Tales Original Adventure starting in Seattle
Cult Cannibal An original adventure that starts in Seattle
Falcott's Debt from the Trail Guide: The Great Northwest page 79 that starts in Olympia
Fist Full o' Splinters An original Adventure starting in Seattle
The Granite Falls Horror An original adventure that starts in Granite Falls
The Terror of Queen Anne Hill An original Adventure starting in Seattle
Tacoma Creepers from the Trail Guide: The Great Northwest page 86 that starts in Tacoma
Winter War from Trail Guide: The Great Northwest page